North Korea hopes to reap large profits from its new Angkor Panorama Museum in Siem Reap, Cambodia.
PHNOM PENH — Cambodia's beleaguered opposition leader Sam Rainsy faces fresh legal troubles after a court summoned him for questioning on possible charges of being an accomplice to "forgery and incitement."
Despite a historic election promising change, Muslims in Myanmar feel threatened and excluded.
With the NLD on the brink of a landslide victory in Myanmar's elections, attention is turning to what comes next.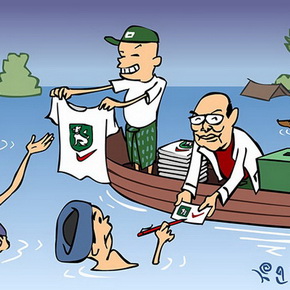 YANGON—With a few deft strokes of Beruma's pen, a jowly likeness appears on the blank page: a caricature of Senior Gen. Than Shwe, Myanmar's former dictator.
Next month the people of Myanmar head to the polls for a famous general election. With ethnic allegiances, miniature coups and a skewed constitution already in play, the outcome looks anything but predictable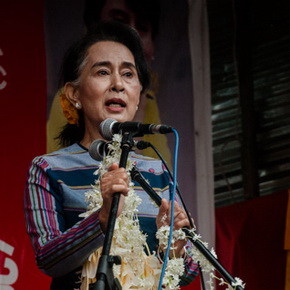 HSIHSENG, Myanmar — Just before the official campaign period for Myanmar's Nov. 8 election, opposition leader Aung San Suu Kyi paid a visit to this township in rural Shan State, where she delivered a speech from the back of a truck beneath a huge red banner and a portrait of her father, the late independence hero General...
Unbowed by prison terms and vicious beatings, human rights lawyer Robert Sann Aung has been battling Myanmar's much-derided judiciary for more than 30 years
PHNOM PENH — Ieng Thirith, the highest-ranking woman in the genocidal Khmer Rouge regime, has died in Cambodia after a long illness, according to a United Nations-backed tribunal that is trying former regime leaders in Phnom Penh.
KAMPONG CHHNANG — The military airport outside this river town in central Cambodia sprawls out in eerie silence, its vast concrete runway untroubled by any sign of aircraft.