HUN SEN'S CAMBODIA
Yale University Press / Silkworm Books, November 2014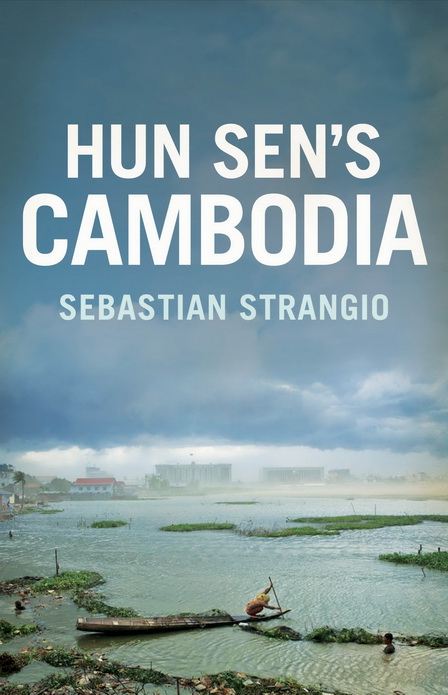 To many in the West, the word "Cambodia" still conjures up indelible images of destruction and death: the legacy of the brutal Khmer Rouge regime and the terror it inflicted in its attempt to create a communist utopia in the mid-1970s. Sebastian Strangio, a journalist based in the capital city of Phnom Penh, now offers an eye-opening appraisal of modern-day Cambodia since its emergence from an epoch of upheaval and bitter conflict.
In the early 1990s, Cambodia became the focus of the U.N.'s first great post–Cold War nation-building project, with billions in international aid rolling in to support a fledgling democracy. But since the U.N.-supervised elections in 1993, the nation has slipped steadily backward into a hybrid form of neo-authoritarian rule under the protean Prime Minister Hun Sen.
Behind a mirage of democracy, ordinary people have few rights and corruption infuses virtually every facet of everyday life. In this lively and compelling study, the first of its kind, Strangio explores the present state of Cambodian society under Hun Sen's leadership, describing the evolution of one of the world's longest-serving leaders, and painting a vivid portrait of a nation struggling to reconcile the promises of peace and democracy with a dark and tumultuous past.
Hardback / Paperback / Kindle / Nook
¤
"Sebastian Strangio has filled a big void with this much needed history of modern Cambodia… This book will set the standard for years to come."
– Elizabeth Becker, journalist and author of When the War Was Over: Cambodia and the Khmer Rouge Revolution
"A long overdue expose of Cambodian thugocracy and its Westerner enablers… 'Hun Sen's Cambodia' is must reading for anyone who wants to make sense of recent Cambodian history."
– Peter Maguire, author of Facing Death in Cambodia
"An exceptionally insightful biography of the world's longest-serving prime minister… a first-class analysis of contemporary Cambodian political history."
– Carlyle A. Thayer, author of War By Other Means: National Liberation and Revolution in Vietnam
"An absorbing, clear-eyed evaluation of Cambodia today. Sebastian Strangio knows the country well… His book is a persuasive reading of its turbulent recent history, as it explores the connections between Hun Sen's enduring dictatorship and Cambodia's painful emergence, willy-nilly, into a larger, freer, very demanding world."
– David Chandler, author of Brother Number One: A Political Biography of Pol Pot
"Detailed and perceptive… Strangio's book will remain of fundamental importance for many years to come."
– Milton Osborne, author of Sihanouk: Prince of Light, Prince of Darkness
"The finest book on Hun Sen and modern-day Cambodia that has been released thus far."
– Joshua Kurlantzick, Council on Foreign Relations
"Undoubtedly the best analysis of the current regime of Cambodia… essential reading."
– François Ponchaud, author of Cambodia: Year Zero
"A richly detailed study that goes a long way toward explaining the contradictions, corruption and complexity of Cambodia… a remarkably well-researched, astonishing portrayal of Cambodia's own Fidel Castro, a folksy, self-styled godfather and his thugocracy."
– Wall Street Journal
"Mr. Strangio has done much original reporting, peeling away the miracle narrative to reveal the bruised fruit beneath."
– The Economist
"Richly researched… An engrossing story and a good reference point from which to understand the key characters in the drama."
– Straits Times
"A well-researched and valuable narrative of a fast-changing country and essential reading for anyone interested in Cambodia's recent history."
– South China Morning Post
"Strangio's timely illumination of Hun Sen's chess moves over the last few decades provides a framework to understand what could happen next."
– The Phnom Penh Post
"After reading this hugely compelling book, however, it is impossible not to regard [Hun Sen] as a genius that any would-be parliamentary autocrat should study."
– The National
"This book is a must for anyone who wants to understand Hun Sen's rise to power."
– The World Today
"An eloquent account of a chapter in Cambodia's history that has for too long been neglected."
– Bangkok Post